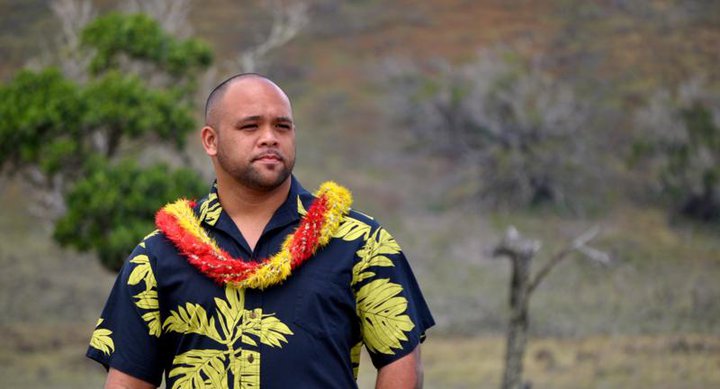 Many may have already encountered this Big Island talent during one of his performances as a part of the group Na Palapalai. The group was frequently featured at special events around the islands where they would bring their creative and cultural sounds to many visitors lucky enough to experience them at sunset in one of the large and lovely island resorts.
However, things have recently changed for one member of Na Palapali. Kuana Torres Kahele has struck out in a different direction. His solo venture has become official with his first album Kaunaloa. His rich talents have been bared to modern technology and to the world and the result are simply delightful. His silky and sweet voice has a clear tenor quality that allows the lyrics and Hawaiian words align with his musical talent to paint luscious and delightful twists and turns in old Hawaiian standards like Ulili E to make it fresh as the day it was originally written. Kuana also has a strong grip on a perfect and smooth falsetto that puts islanders in touch with the vistas and scents of the Big Island. His falsetto is as delicate as a pulelehua fluttering from flower to flower on the sunny slopes of Mauna Kea. The lingering quality of his extended notes punctuates thoughtful and descriptive lyrics.
Many of the songs on this new CD will comfort Hawaiian music traditionalists with the familiar sounds and rhythms of festive luau tunes but it will also engage the contemporary side of islanders who can appreciate the traditional melody sprinkled with accents of fresh and expressive chord combinations that what makes Kuana Torres Kahele Hawaii's newest musical master.
Aside for engaging traditional tunes, the album holds several new songs that are sure to become Hawaiian classics. He draws from his travels to France to put together a very interesting song on the city of lights. The Hawaiian lyrics speak of the Mona Lisa at the Louvre and the people who make the city a special place that obviously had an impact on him.
Waimanu offers insight into his solid slack key skills and descriptive lyrics while Na Vaqueros offers a Spanish beat and a bi-lingual version of the ranch life of Hawaiian Paniolo and Spanish Vaqueros.
The lyrics expound extensively on the beauty of the Big Island. From the beauty of the Waimea ranches to the shore of Milolii where he sings of the small fishing town being the home of his ancestors. The album has been well crafted to include a variety of experiences that are certainly in the hearts and minds of many islanders.
What is most enjoyable abut this new album is that is stays true to traditional Hawaiian tempos while adding modern twists. The collection is one that will warm hearts while still remaining relevant to the modern world. His talents at capturing slack-key rhythms, traditional themes and silky sounds make him a Hawaiian treasure.
Kuana Torres Kahele is currently touring the world at a hectic pace. Although his island performances are very limited, it's worth the effort to enjoy his talents live when possible.
By: Lottie Tagupa, Posted in Culture events, live music, music, singers