BigIslandHawaii.org was founded with the mission to build the most comprehensive, socially responsible and technically accurate travel guide to the island of Hawai'i which is most commonly referred to as "The Big Island."
Featured Team Members
Our team consists of a group of individuals passionate about travel in general and specifically about Hawai'i. We won't bore you with naming our programmers and back-end staff, but instead let you know the people who are helping you plan your trip.
Lottie Tagupa

A former flight attendant and a Hawaii native, Lottie has been a local girl all her life while traveling far and wide to experience travel and everything the world has to offer. Currently residing in the small ranching town of Waimea on the Big Island. She splits her time between South Kohala and Ewa on Oahu. She enjoys golf at any one of the several courses in the islands, going on walks with her two golden retrievers. She has been writing about Hawaii for more than 10 years and loves sharing her Hawaii insight with everyone.
Aaron Philips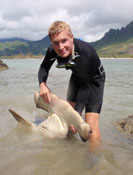 Aaron Philips is a writer and marine naturalist living the adventure lifestyle in Hawaii. Among many other things he has worked as an environmental educator in Washington D.C., a whale watch naturalist in Alaska, and a kayak guide on Oahu. Now he lives in a self-built treehouse in the jungle of Big Island's Puna district. Always on the lookout for new places and experiences, he began blogging in 2008 while working for CBS News in Anchorage. He can often be found in remote areas scuba diving, hiking, camping, fishing, and nerding out about the natural world on the most diverse island on planet earth.
Aaron updates regularly with science, humor, and photography on his own blog so be sure to check that out too.
Want to Talk to Us?
Head on over to the contact page and drop us a line.