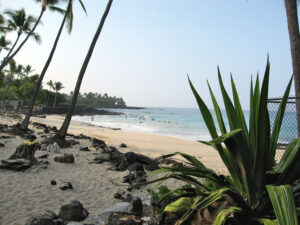 The beach is central to any vacation in the Hawaiian Islands, and first-time visitors may be a little perplexed when they first arrive on the Big Island. On first glance, tourists would be forgiven for thinking that there are no 'real beaches' on the island. The good news is, beaches are here – you just have to know how to find them.
Finding the best Big Island beach depends a great deal on what you value. Some vacationers prefer facilities over seclusion, while others are willing to hike two or three miles just to escape the crowds.
Big Island beach tips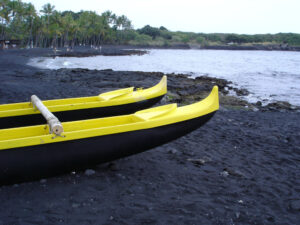 As with the entire landscape of the Big Island, local beaches are rocky. Some of the resort beaches have been padded with imported sand; others have swiped that sand thanks to rogue currents. Whichever beach you visit, take a moment to look for rocky outcroppings that may get in the way when you're swimming, snorkeling or body surfing.
Beaches in populous areas and right off of major highways are likely to have lifeguard stations, showers and picnic tables, but many of the best beaches are off the grid and have little more than surf, sand and palm trees. Getting to beaches like this usually requires some combination of off-road driving and hiking, and it's best to link up with someone who has been there before.
Outstanding beaches on the Big Island
These are a few of the most popular beaches on the Big Island of Hawaii:
Hapuna Beach: this is probably the best beach Big Island Hawaii, especially for those in search of long, unbroken waterfront, facilities and lots of sand and sun. It's located in South Kohala, features ample parking and has no problem accommodating the throngs of people who visit on the weekends.
Magic Sands Beach: on maps it's called 'White Sands Beach', but most locals call it just call it 'Magics'. This narrow bay is located halfway between Kailua-Kona and Keauhou on Ali'i Drive. A healthy shore break makes this an outstanding (if cramped) place for body surfing and boogie boarding. When the surf's really pounding, the sands are swept away, revealing a rugged volcanic rock shelf.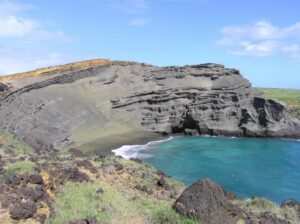 Green Sands Beach: getting to Green Sands is difficult for those without a 4WD vehicle. It's on the south shore in Kau district. The sands really are an emerald green due to past volcanic activity. The beach is hemmed in by a three-walled natural amphitheater of cliffs. Strong currents mean weak swimmers may want to stick to the shore.
Leleiwi Beach: this is one of the only beaches in Hilo, but it's a strong contender for best beach on the Big Island. It features full facilities, is flanked with shade-giving palms and has a few tide pools that are perfect for swimming.
Anaehoomalu Bay: in front of the Marriot resort at Waikoloa, this beach's name often gets shortened to 'A Bay'. It's a gold-sand beach that's perfect for water sports, and the resort responds with rental equipment for windsurfing, kayaking and scuba diving. You don't have to be a guest of the resort to access the beach at A Bay.
Photos by: Anthony Knuppel, Media Guru, phault, TimWilson