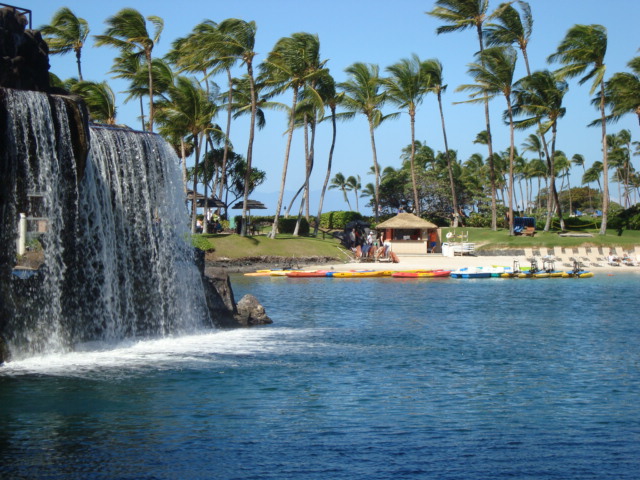 Located eighteen miles from the Kona International Airport at Keahole, this huge sprawling hotel is by no means for those who are craving a private and intimate setting. The Hilton Waikoloa is the largest of several resorts along the Kona-Kohala Coast, but this one is an extraordinary collection of activity, families, conventioneers and more.
The hotel was first conceived on a cocktail napkin by one of Hawaii's most admired developers Chris Hemmeter, the same man who built many of Hawaii's mega-resorts including the Grand Wailea, the Grand Hyatt Kauai and the Kauai Marriott. The plans positioned the resort along a rocky lava bluff just to the north of popular and historical Anaehoomalu Bay in the burgeoning resort of Waikoloa. The resort was fashioned on acres of black lava rock and was completed in just two years.
Referred to as the Hilton Waikoloa Village and not to be confused with Waikoloa Village about 10 minutes upsolpe, it is truly a village of luxury and leisure. Filled with over seven million dollars of Asian art, gardens, waterfalls, two championship golf courses, a seaside putting green and complimentary resort shuttle service.
But that is only the beginning. The resort is huge. It occupies over sixty-two acres and is filled with over twelve-hundred guest rooms and suites. The property is so sprawling that there is complimentary tram and shuttle boat service throughout the resort which connects guest rooms to the lobby, several restaurants and shops.
The recreational amenities at this resort are over the top. Since the resort has no natural beach, developers have created a man-made water extravaqganza with something for everyone. There are no less than three fresh water pools.
The Kona pool is located adjacent to the Orchid Marketplace where sandwiches and grab and go meals, snacks and beverages are offered. This pool boasts a huge waterfall and lots of sunny deck space.
The most popular with families is the Kohala River pool. A collection of flowing river pools connected via waterslides, it's the pool that parents will find are most popular with the kids.
The resort's only adults only pool is a private enclave away from the hustle and bustle of the main recreation area centered around a small pool where couples can relax amidst the sounds of tropical breezes and crashing ocean surf.
The resort also boasts a huge ocean-fed lagoon along with a man-made white sand beach where there one can rent kayaks, pontoon boats, snorkels to enjoy the abundance fo tropical fish.
For those wanting to take their Hawaii experience to a different level, the resort is also the location of Hawaii's largest dolphin interaction programs. Located adjacent to the lagoon, programs vary in length and price.
In addition to all of the water focused family fun, the Hilton Waikoloa Village also has several restaurants, a full-service spa, several bars, a kids program and several tennis courts.
It deserves to be said that this resort attracts many families and has a large meeting and convention facility that is very active. For all the acreage it has, it doesn't have a lot of open public space which can result in a crowded and noisy atmosphere. For those looking for quiet and solitude, try the Mauna Lani Bay Resort up the coast where service is focused on a more pristine and personal experience rather than a mid-American amusement park setting.
For those who want to arrive at the Waikoloa and have the perfect Hawaii family vacation, this resort will not disappoint. The resort offers deep discounts in thelate summer and early fall when the weather is still marvelous. In addition to booking hotel rooms early, it is highly recommended that reservations for Dolphin Quest be made as early as possible.
The Hilton Waikoloa offers visitors a unique and marvelous Hawaii vacation experience that is filled with lots of activities and sunshine. The resort is certainly one of the more fabulous in the islands that seems to best suited for conventioneers, families and perhaps a few couples. For those choosing to vacation at the Hilton, be prepared for a lot of kids, high resort prices and a sprawling resort that makes for a lot of walking to and from pool, room, parking, lot and restaurants.
You Might Also Be Interested In: