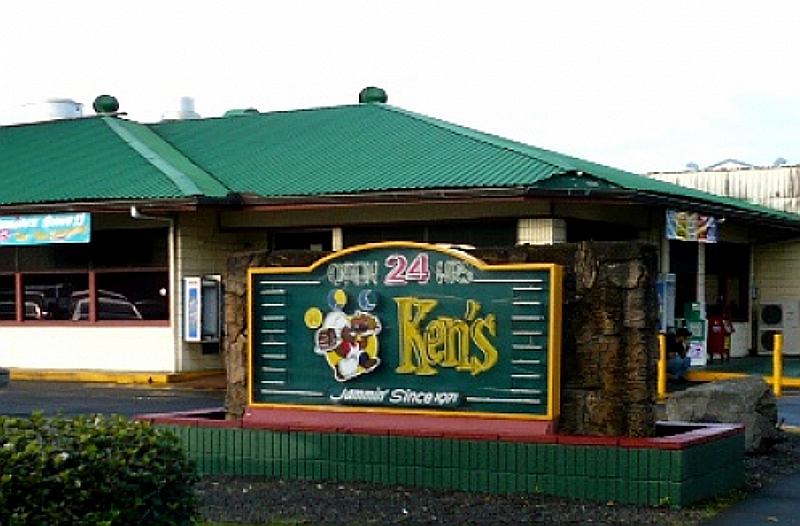 Ken's house of Pancakes, located at the northeast corner of Hilo, has been a local staple for more than 40 years. This is the place to get local Hawaiian food (and a whole lot more) at any hour of the day. It's the only 24-hour diner in Hilo town, so if you're looking for ono grindz after 10pm, chances are Ken's is where you're going. A favorite late-night spot, you might go in at 2am on a Saturday morning and find the place packed. Weekends and evenings can get busy as well. Parking is limited and the spots are small, but inside there's plenty of seating and they'll happily accommodate large groups.
Ken's menu is huge (several hundred items), and everything is served 24/7 including breakfast. Inside it's set up as a diner. The coffee is decent (and there's plenty of it) and the service is always good. The waiters and staff are friendly and hospitable and are usually happy to talk story. The food is good for the price, and there are daily specials that people often return for. Voted Best Breakfast on Big Island for 14 years and voted Best Diner on Big Island by Reader's Choice, Ken's is definitely a local favorite.
Related Listing
Located at the very edge of Kaunaoa beach, this open-air restaurant is a gathering spot for hotel ...

Located a few minutes south of Kailua-Kona is the small town of Kainaliu, this small Italian eatery ...

There is hardly anything more local than a scoop of fluffy and flavorful shaved ice. These stands ...