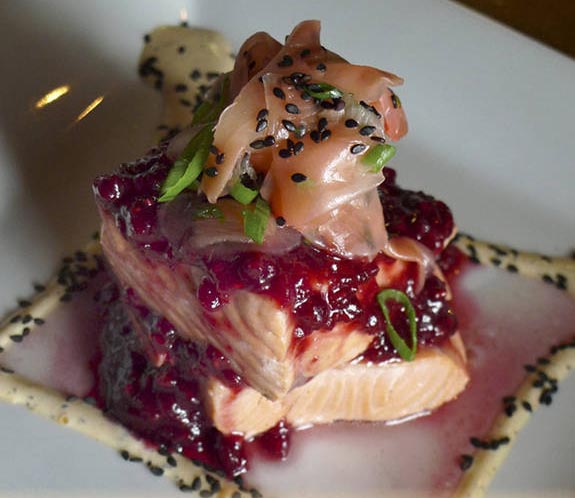 Located along Kamehameha III Road just makai of Mamalahoa Highway, there is a restaurant that is near and dear to all who love genuine island cuisine. It is the perfect mix of island atmosphere, endless Pacific Ocean views that offers lots of home grown style and flavors.
Perched on the slopes of the Keauhou resort, this former fast food restaurant was gutted, stripped and resurrected as Kona's newest and most pleasurable eateries. The restaurant has been the cause of much excitement on the Big Island where the anticipation of hometown boy and now world famous Sam Choy returning to Kona to achieve his finest to date.
Chef Choy has made his mark of island cuisine throughout the world, but many islanders remember that he started at a small casual café in the Koloko Industrial Park more than 15 years ago. Many credit Chef Choy for bringing poke to the masses by founding the Poke Festival and Recipe Contest which resulted in tuna prices never being the same again. Today his culinary kingdom runs the gamut of weekend cooking shows, cookbooks, salad dressings and even and in-flight ventures with American Airlines. However, it wasn't until Kai Lanai and Sam Choy's return to his home roots in Kona that many did not have to travel to Honolulu to enjoy his talents.
Keeping true to his island style, the restaurant is a masterpiece in casual simplicity. Open to the cooling Kona winds and spectacular sunsets, the dining area is patio-like with an unobstructed mauka to makai view that embraces the Pacific Ocean and celebrates the Big Island's lesser known volcano Hualalai. The far end of the dining area is a small bar complete with a sizable TV for those special sports events. Sam Choy's signature homage to the sampan is positioned as a backdrop to all the activity at this whimsical touch in this watering spot. However, for those who are happy hour fans, the cocktail lanai is truly magnificent. The alfresco setting is outfitted with two conversational fire pits, lots of comfortable seating and even a telescope to hone in on canoe races, surfers, whales, stars and the tropical moon.
The dining room is spacious and uncluttered. Tables are spread out enough for privacy. Some enjoy glimpses of the kitchen where the staff seems to be perpetually in motion. Tables are also perched on the lanai are where the views are panoramic and the experience is intimate. Either way, like his eateries before this, it's about ohana, so family friendly is the rule for breakfast, lunch and dinner.
Many already know that dining at Sam Choy's means reasonable prices, lots of fresh fish and a multitude of island flavors. Kai Lanai is no different. However, he has scaled back on those legendary gigantic portions from the Diamond Head restaurant and chosen to focus on the favorite dishes from previous ventures.
One can still order that famous Big Island style Loco Moco or Sweet Bread French toast for breakfast or even a tasty Hawaiian style omelet with Chair Siu and Green Onions. Those stopping in for lunch will be happy to see that Sam's fried poke is still centerstage and can be enjoyed as a wrap, salad or even plate lunch style. The dinner menu delves deeper into Sam's Hawaiian Chinese roots with entrees that include Seafood Lau Lau, Ka'u Orange Duck or Oriental Lamb Chops.
This eatery is a must-do when visiting the Big Island. Far from the Cali-Mex or Tex-Mex pubs along Alii Drive and the confining atmosphere of predictably over-priced resorts, Kai Lanai will offer stellar views, attentive service, a menu of fresh island fish specialties and most importantly a genuine and memorable Hawaii island experience.
Table reservations are a must, especially for large groups. If the weather is clear, opt for a table on the lanai. If it's looking like rain, request a table just under the overhang. Dinner reservations are best for sunset and all reservations should include a toast to celebrate the demise of that fast-food burger joint.