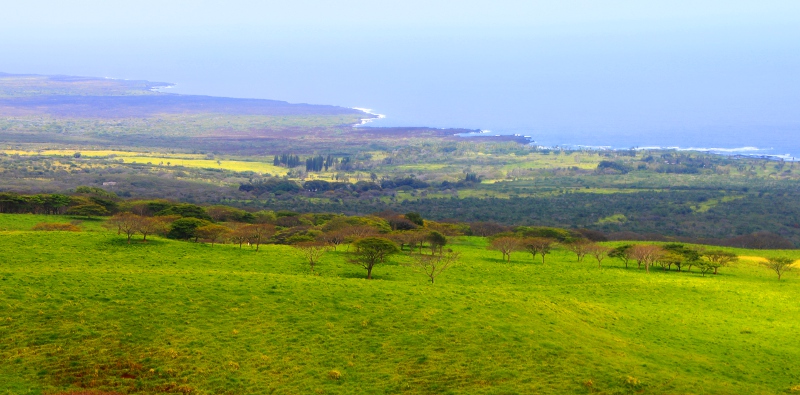 Ka'u is Big Island's southernmost district. Sitting far away from the island's major cities, Ka'u is home to Hawaii's last great tracts of untouched wilderness. There are several population centers in this district, which include Pahala, Ninole (now Sea Mountain Resort), Na'alehu, Waiohinu, Ka Lae (South Point), and the community of Ocean View.
Ka'u is home to many different environments including some of the rarest in the world. The coastline is diverse, with much of the area being rocky shore, there are a few places here where the land meets the sea in a less violent manner. At Ka Lae (South Point) you can spend the day on a green sand beach or jump from the 40-foot cliffs into clear blue water, where every year major spearfishing tournaments are held. You can swim with Hawaiian Spinner Dolphins in Ocean View's Pohue Bay, or watch Hawksbill Sea Turtles swimming in to sleep in the freshwater ponds at Honuapo (Whittington Beach Park). You can surf the sunlit pounding waves at Kawaa Beach or lay in the sand at Punalu'u black sand beach.
Ka'u was once covered in sugar cane, but today the dominant crops are coffee and macadamia nuts.  Driving through Pahala, Na'alehu, and South Point you'll see numerous small coffee farms offering bags for sale and coffee tasting.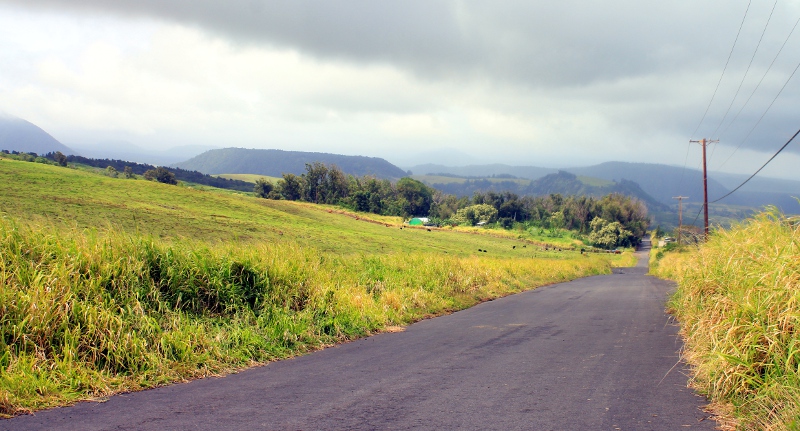 Upland Ka'u is remote and temperate. The elevated areas above Pahala and above South Point and Ocean View are much colder than the rest of Hawaii. Here it rains often and in the winter time if you're above 5000 feet you may even get snowed on! Ka'u's cooler areas are home to ancient Koa and Ohia forests, such as the ones that can be seen from Hawaii Volcanoes National Park's Kahuku Unit, which can be accessed between Ocean View and South Point Road on the highway. This newly acquired portion of the park contains more than 116,000 acres, nearly doubling the park's original size.
Ka Lae (South Point) is believed to be where humans first made landfall in Hawaii nearly 2000 years ago.  The turbulent coastline here has trails crisscrossing the grasslands all the way to Na'alehu 18 miles away.  These ancient areas are the oldest inhabited lands in Hawaii.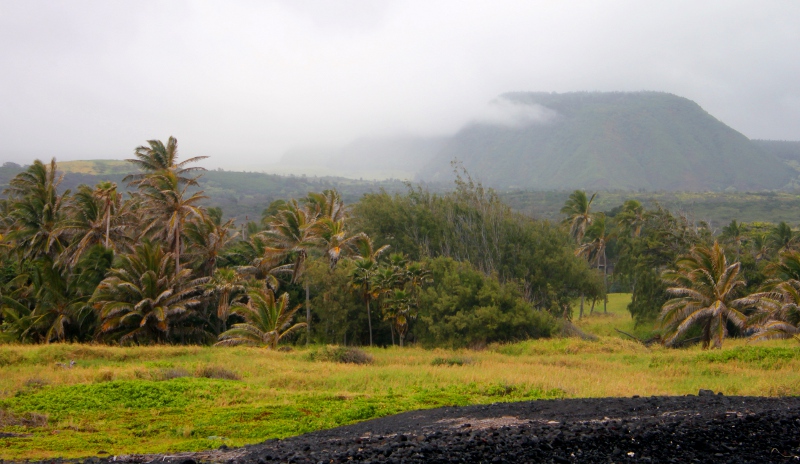 Na'alehu's claim to fame is that it's the southernmost town in the united states, and many establishments here attest to this fact. Once a bustling sugar cane town, today it's a quiet community with just one stop light.
Ka'u isn't often covered in guidebooks or brochures, but offers an enormous variety of things to see, do, and experience.