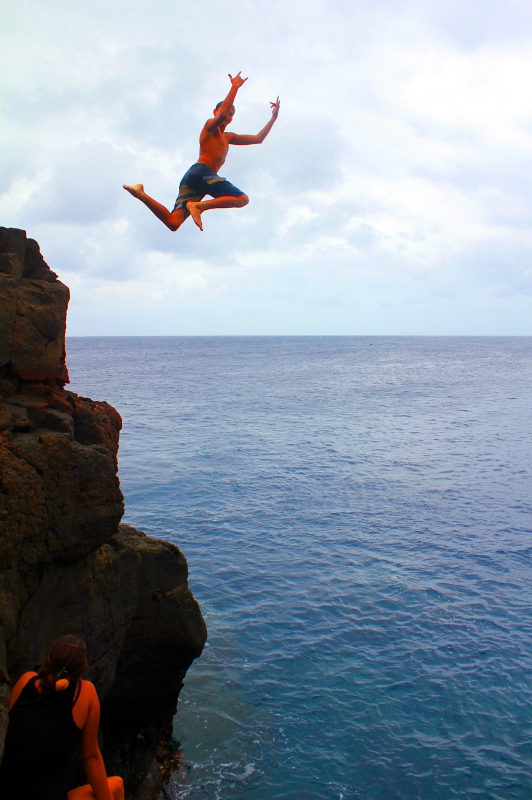 The windswept land of Ka Lae, also known as Big Island's South Point, is home to some of the most picturesqe coastline in the state. Holding the title of the southernmost point in the United States, this spot is where locals and adventure seekers alike come to jump off the edge of the world.
Many come here to stand atop the rocky cliffs and look out at the vast Pacific ocean, which continues from South Point all the way to Antarctica uninterrupted. For many years it's been a common practice for those seeking a thrill to jump from the 40-foot cliffs into the crystal clear blue water below.
It should be stated that cliff jumping is an inherently dangerous activity and anyone thinking about doing so should be in good physical condition, a good swimmer, and comfortable in the ocean. The very nature of cliff jumping requires you to take your life into your own hands. For many this is a challenge rather than a deterrent.
There are several places to jump into the water, but most people jump near the canoe launches (large wooden/metal structures atop the cliffs – you can't miss them)  The water here is plenty deep (25 feet right off shore) and there's a metal ladder which you can climb up to get back to the top.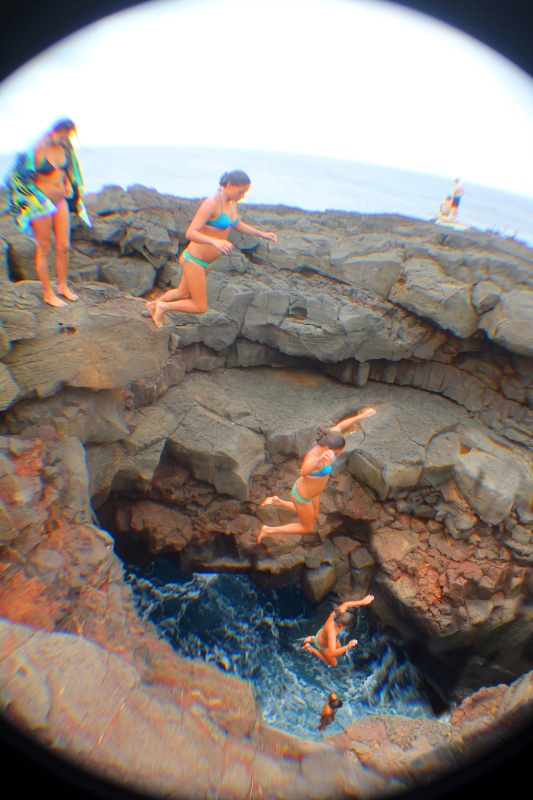 Conditions at South Point can get rough and dangerous. When in the water, either swimming or snorkeling, it's best to stay at least 20 feet from the rocky cliff wall, otherwise breaking waves may sweep you into the rocks. There is a strong offshore current as well, so it's best to stay less than 100 feet from shore, otherwise you may find yourself on a free ride to southeast Asia. As with many turbulent shore spots on the island, once in the water you must wait for the waves to subside and time your return to shore between sets.
Another spot at South Point is the Blow Hole, which is a large hole in the cliff which connects to the ocean beneath through a sometimes underwater passage. This area is for experienced jumpers only, as the potential for injury is significantly higher when falling through a tunnel of rock into boiling turbulent ocean beneath. Bear in mind that anywhere you jump you'll also have to climb out of. Scout your area carefully.
It's also worth noting that South Point also has more shark sightings from land than anywhere else in the state of Hawaii. Great Whites and Tiger Sharks are often encountered offshore here because of the size and diversity of game fish in the area. World class spearfishing tournaments are held multiple times a year at south point as well.
For those that come to Big Island to live an adventure, jumping from the cliffs at south point can be a life changing experience. If you're in any way unsure of your abilities you may want to keep to dry land, but for the adventurous few there is little better than that brief moment of flight before hitting the water.