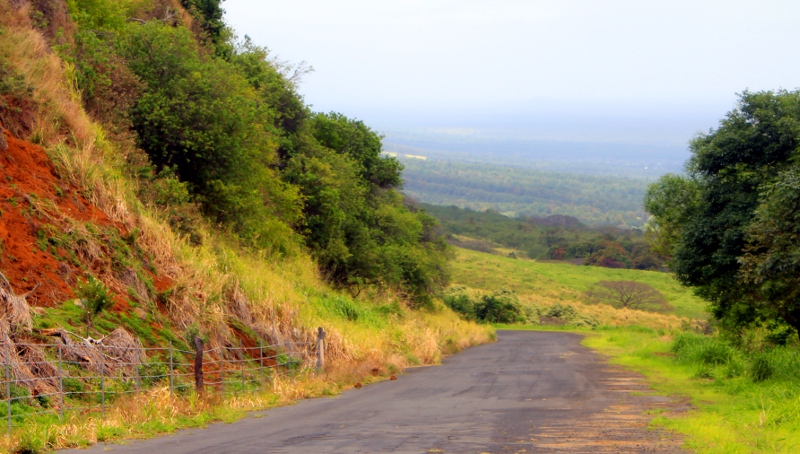 Arguably Ka'u's most scenic drive, Kaalaiki road (15 miles one way) lies between Pahala and Na'alehu up on the mountainside above both towns. Referred to as "the high road" by locals, Kaalaiki is the scenic route through this lesser-known part of big island.
Sitting on Mauna Loa's eastern flanks, the best time to do this drive is in the morning.  Much of Kaalaiki has an ocean view and sunrises from up here are particularly vibrant.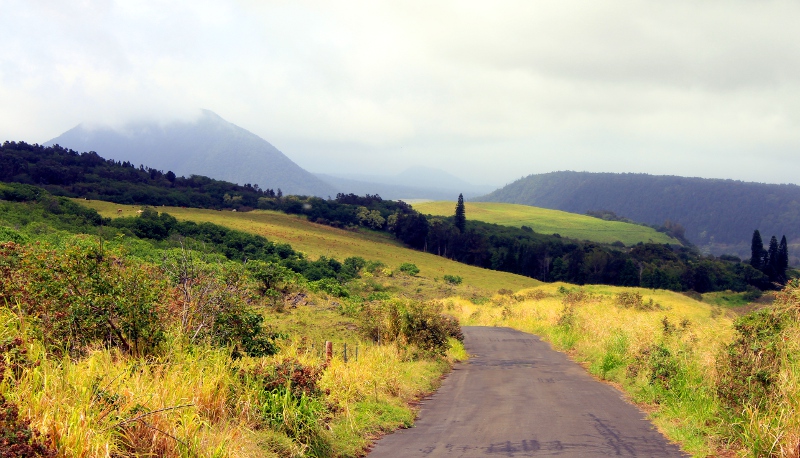 If you drive up from the Na'alehu side the first thing you'll see as you leave town are large white letters spray painted on the ground: "No Stinky Around Hea".  This presumably refers to the common hawaiian practice of clandestinely growing marijuana near the roadside and that at least one landowner is unwelcoming of this.  As you head up the hill you're soon met with a breathtaking view of Na'alehu town and the ocean beyond.  Up here you can see for miles and miles into the heart of Ka'u and up the meandering coastline.  Above the road there are rolling green hills and cattle all the way to the top of the ridge several miles distant.  Once you rise above the 2000 foot pali (cliff), the road snakes through valleys and around steep green hills, furry with plant life.  After a few minutes you'll pass by one of the road's most outstanding features: the Na'alehu Radar Station, which sits atop the ridge providing weather data for the southeast portion of the island.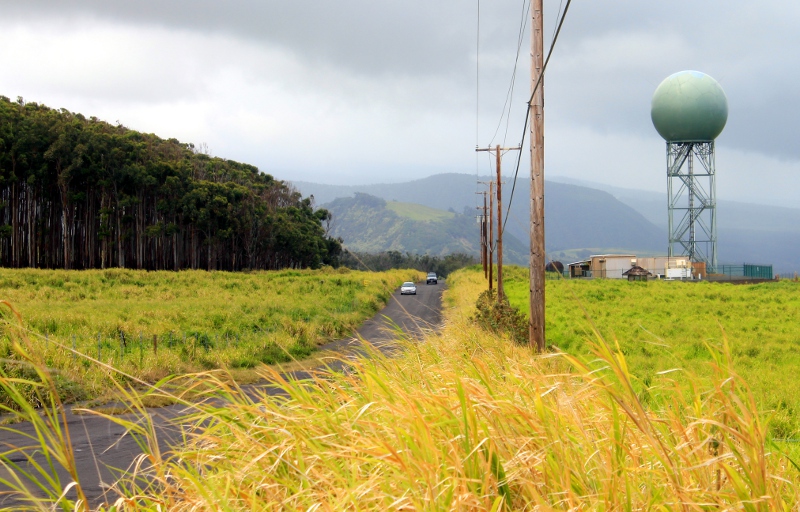 Continuing onward you'll see a network of valleys and cinder cones up the mountain above you, and a sweeping view of Ka'u below.  This area with its lush green hillsides looks much like hawaii's older islands, but these valleys are different being so high up.  The plants here are darker, more woody and less leafy.  Instead of palm trees there are Koa and Ohia towering above you.  The heavy rainfall here has caused significant water erosion, and as you drive along from valley to valley you cross narrow bridges over stream beds and shallow slot canyons carved by running water over thousands of years.
Heading into Pahala area you'll pass by more macadamia nut farms and coffee farms. before finally being deposited into Pahala town next to the high school. From here you can continue the scenic drive up into Wood Valley (another 6 miles), or head back down towards one of the areas three beaches on the rocky coastline.
Kaalaiki road offers some of the best views of the southeast part of the island and is definitely worth the detour.
You Might Also Be Interested In: