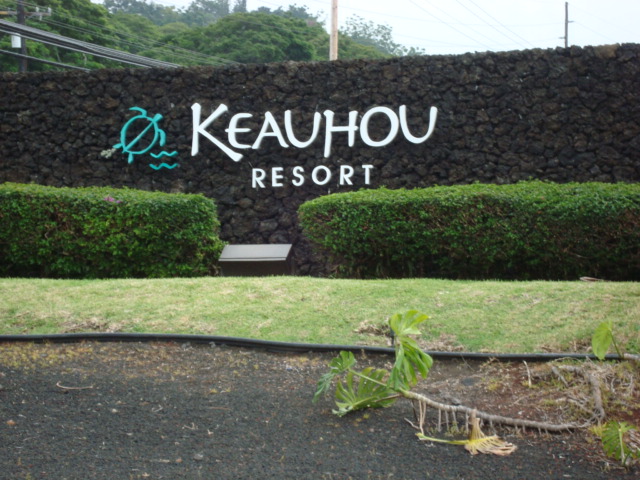 It's a trip I've taken more than once over the past two years, but today, I thought it should be taken a slower than usual. Other times I have visited have been in the crush of the summer months where areas along Alii Drive swell with tourists, rental cars and other sign of economic prosperity.
The weather wasn't as postcard beautiful on this October day. Voggy conditions and overcast skies threatened a tropical thundershower at any moment, but as an islander, these conditions are the acceptable trappings of living on a volcanic island in paradise. Some amount of vog or volcanic haze is always present along the Kona side of the Big Island. Almost unnoticeable on most days, today it was thick enough to blur the horizon. The severity of the haze depends solely on the activity of nearby active volcanoes of Halemaumau and Puu O'o along with the direction of the wind. Today the island breezes were simply light to calm, so the sulphur-laced vapor was thicker than usual.
I took my usual route, Wandering south along Alii Drive past the important historical sights of Ahuena Heiau and Hulihee Palace, past shops and hotels. I continued toward Keauhou past Laaloa and Kahaluu beaches and was quick to notice that the dark skies and haze did not deter surfers and snorkelers from enjoying the warm ocean waters. The parking lots were almost filled to capacity, but the traffic congestion that is expected in the area was non-existent.
My purpose today was to reacquaint myself with several historical sights in Keauhou. Today, Keauhou is a cluster of timeshares, oceanfront resorts, private homes and shopping centers. However, many of the historical sites still remain. Keauhou is most importantly known as one of the gathering spots for the Kamehameha dynasty, future rulers were born just steps from the ocean where summer homes, fishponds and recreation was a part of the landscape.
Hawaiians refer to Keauhou as a wahi pana or a celebrated and sacred place. There are three significant heiau or temple along the shoreline adjacent to the Outrigger Keauhou along Alii Drive. The largest is the Hapaiali'i built somewhere between 1411 and 1465, is said to be aligned to the summer and winter solstices. Hapaiali'i has received a lot of attention and efforts to restore the sacrificial platform and dry stack masonry walls was completed in 2007.
Ke'eku is said to be the the temple of high chief and warrior Lonoikamakahiki, but information on the others including Kapuanoni and several others located along the southward shoreline are shrouded in legend and mystery.
Visits to the heiau are available to anyone who wants to wander the shoreline and visit from a distance. Access is best via the lobby of the Outrigger Keauhou along Alii Drive. One can find a brochure that provides self-guided tour information and etiquette to observe when visiting these precious sites.
You Might Also Be Interested In: