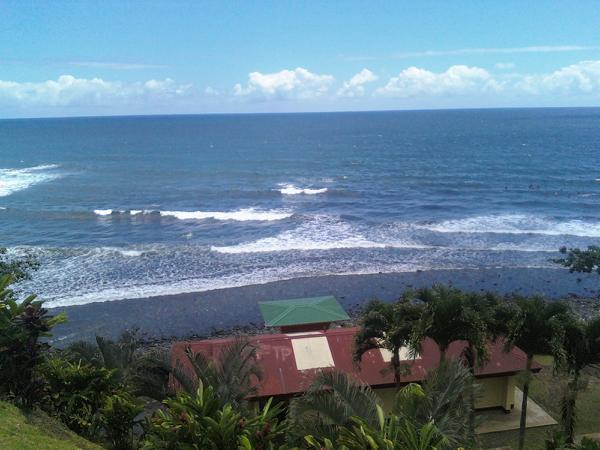 Just north of the city limits Hilo surfers get their fix at Honoli'i, east Big Island's most popular surf
beach. There aren't many accessible surf breaks around the Hilo area, so when the surf is good you can be sure everyone's at Honoli'i.
The beach is a short 2-mile drive north of Hilo and is a nice place to relax and take in the sights even if you're not surfing. Parking is along the road at the top of the hill. When it's crowded you may have to continue down the road or park in the subdivision adjacent. Stairs take you down to the beach where there's a large grassy area with palm trees, picnic tables, restrooms, and showers. With so many palm trees around it's common to find coconuts on the ground.
The beach is composed mainly of black sand and pebbles and is connected to Honoli'i stream on the north side. Because of its proximity to Hilo bay and its connection to a freshwater outlet underwater visibility here is nonexistent. The cold stream and surf break also cause riptides and longshore currents, so recreational swimming here is uncommon. There are many Hawaiian Green Sea Turtles around this beach and surfers may often see their heads pop up while waiting for the next wave.
There are two surf breaks at Honoli'i. One breaks directly on shore and the other breaks outside the northern point of the bay. On a big day you may easily see 30 or 40 surfers out here. Spectators often line up along the road above to watch.
Along the stream there's a large pool at the mouth. This is a common spot for fishermen, both net and reel. You may find swimmers here, but the water is considerably colder than the ocean. Sea glass is commonly found where the stream meets the beach and along the pebble shoreline.
Why go to Honoli'i?
Honoli'i is Hilo's best surf beach and a popular hangout spot. It offers landscaped grounds, amenities, and a nice view of Hilo town across the bay. The surf is the best in the area.
You Might Also Be Interested In: