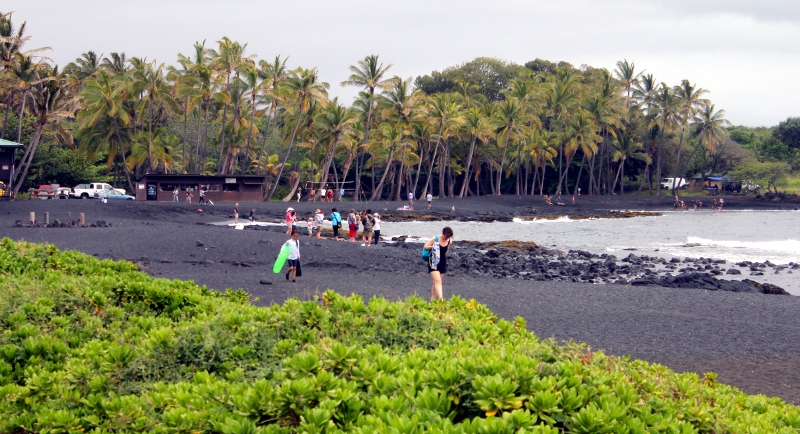 For those that have never seen a black sand beach, Punalu'u is an eye-opening stop on the road from Volcano to south point. However, if you've seen other black sand beaches you may be unimpressed by this, the most heavily touristed area in Big Island's Ka'u district. Unlike other often remote black sand beaches this is a regular stop for every tour bus because of its accessibility to the highway. Because of this and the nearby Sea Mountain resort and Golf Club, Punalu'u is often noisy and crowded.
Hawksbills and green sea turtles live in these waters and frequently haul out on the beach when its sunny. This is a wonderful sight if the beach is not crowded and people are respectful towards the animals, however this is often not the case and even though turtles are still visible most days, their numbers in the area have dropped significantly in the past 20 years.
The name Punalu'u means "spring diver", in reference to the fresh water spring that seeps out from under the rocks on shore and into the ocean. In ancient days divers would swim to the bottom with hollow gourds, holding them upside down to catch the less-dense fresh water floating up from beneath the rocks. This fresh water is much colder than the surrounding ocean and makes swimming a chilly affair.
The anchialine pools are another interesting aspect of Punalu'u. These are brackish water pools that experience tidal change but have no above ground connection to the ocean. These pools are home to many species of endemic and native shrimp, including the rare Opae'Ula (Hawaiian Red Shrimp) which travel between them in underground cracks. Hawaii is the only place in the country that plays home to this threatened ecosystem, and of the 700 known anchialine pools the vast majority are here on Big Island.
Punalu'u also hosts Koa ponds, which are brackish water ponds in which specific species of fish live. In old Hawaii these were an important food source for families living in the area.
Punalu'u has three ancient Heiaus (buildings of significance in the ancient Hawaiian religion). It is one of the last places in Hawaii where a person can enjoy an unaltered view from one Heiau to the next.
Punalu'u has a rich and varied history dating back to long before foreign contact in Hawaii. This place has changed significantly in just the past few decades. Enjoy all Punalu'u has to offer, but do so with respect for the land and the animals, or the things that make this place unique will be destroyed before future generations can experience them.
You Might Also Be Interested In: