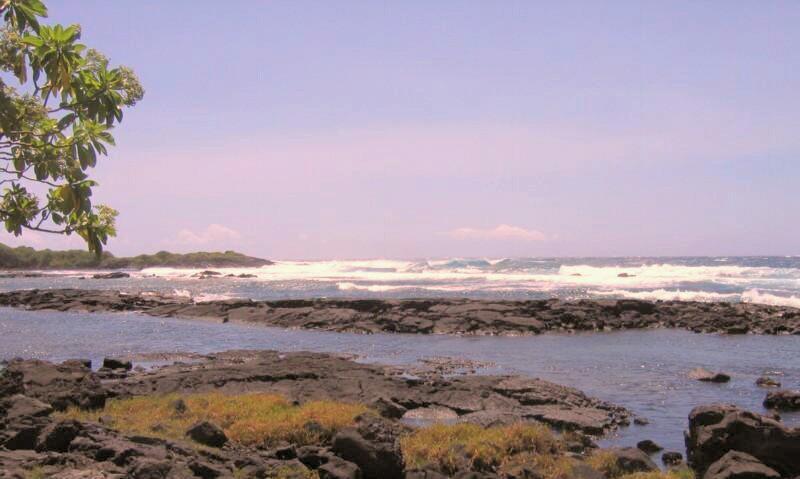 Located just north of the small town of Naalehu in Big Island's Kau district sits the remnants of a more prosperous time. The town of Honuapo was once a bustling sugar cane town but today all that's left is the rusted skeleton of a shipping pier jutting into the bay at Whittington Beach Park.
Whittington is a lesser-known spot, but natural beauty abounds here. Sitting at the southern part of the large Kau desert, Whittington gets very little rain. It's often dry and windy, but by no means stark. This park is teeming with bright colors and sunshine. It offers magnificent views of the ocean, countryside, and surrounding cliffs. The upland area here is reminiscent of Scotland, but down on the beach it feels secluded and uniquely Hawaiian.
Honuapo was once a busy sugar cane center and the pier that today has fallen apart was once an important shipping facility. The sugar cane boom in Honuapo lasted from the 1870s to the late 1930s. In 1946 a tsunami wiped out the pier and in 1948 the land was turned into a park.
Whittington has picnic tables and bathrooms, but no fresh water. This is a great place to stop after a trip to south point or the volcano. One thing that makes this beach unique are the Hawksbill sea turtles that can often be seen here. Hawksbills are much less common in Hawaii than the Hawaiian green sea turtle and can usually only be spotted around this region of the island. At Whittington there is a large fishpond where hawksbills commonly gather at night. The best time to see turtles here is at dawn and dusk. It's during these twilight hours that the turtles make their transit between the pond and the ocean. Turtles migrate here at night to sleep in the safety of the pond where there are no predators. The fish pond is connected to the ocean via a narrow inlet at the front and it's here that you'll be most likely to see the turtles as they transit through. This inlet is easy to find. If you show up at twilight and don't see any turtles don't despair, wait a few minutes and one is likely to appear. This is certainly not a guaranteed sighting, but if you come at the right time Hawksbill sightings are extremely common.
Whittington is beautiful but not ideal for swimming. The waves here are large and the shorebreak can be violent. You can continue down the coast past the fishpond for some decent tidepooling.
Why go to Whittington Beach Park?
Natural Hawaiian beauty, amazing scenery, and an extremely rare opportunity to view the endangered Hawksbill sea turtle in Hawaii.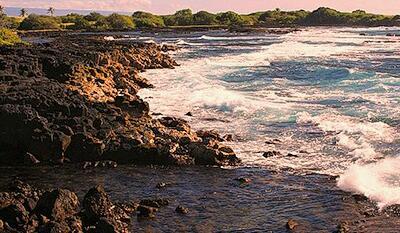 You Might Also Be Interested In: