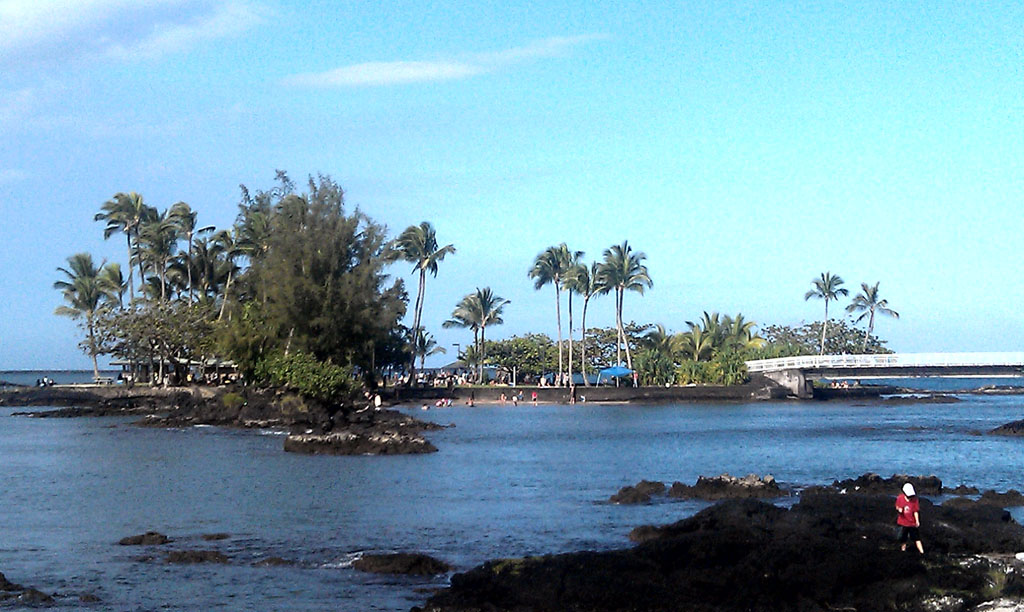 Just offshore from Hilo's famed Lili'uokalani Gardens sits Mokuola, known popularly today as Coconut Island. This is Hilo's most popular and convenient beach. It offers swimming, a tower to jump from into the ocean, picnic tables, a grassy area, and good sea turtle watching.
The island is connected via a wide footbridge. The bridge is a popular photo spot with a clear view of downtown Hilo, and a good place to look for turtles in the water below. Shade from the bridge makes them easy to spot here.
The center of the island, once home to an ancient temple, is now a grassy park where community events and barbecues are held. The island's name, Moku Ola, translates to "Healing Island". In the days of old Hawaii this island was a place of refuge where those who had defied the laws of Kapu could flee and seek sanctuary. If a person could outrun the warriors chasing them and swim to the island then they were pardoned for whatever crime they had committed and usually allowed to return to their people.
In 1946 the tsunami that destroyed much of Hilo wiped out the original bridge to the island. The original 15 foot stone tower still stands and is now popular among local kids as a spot to jump into the ocean. A lot of people enjoy this and it's an exhilarating way to cool.off on a hot day in Hilo.
Hilo bay is quite murky, so snorkeling isn't good here, but it's a popular swimming spot. There are showers next to the restrooms and changing areas inside.
Why go to Coconut Island?
This is Hilo's most popular beach, and it's the closest place to swim in the ocean near downtown Hilo.
Related Listing
This quiet bay is still the home to several local families. The rocky shoreline contrasts with the ...

Known to most as the City of Refuge, this oceanfront park is one of the more extraordinary in all ...

Located at the very end of Kalanianaole Avenue in Keaukaha is Hilo's closest black sand beach.  ...