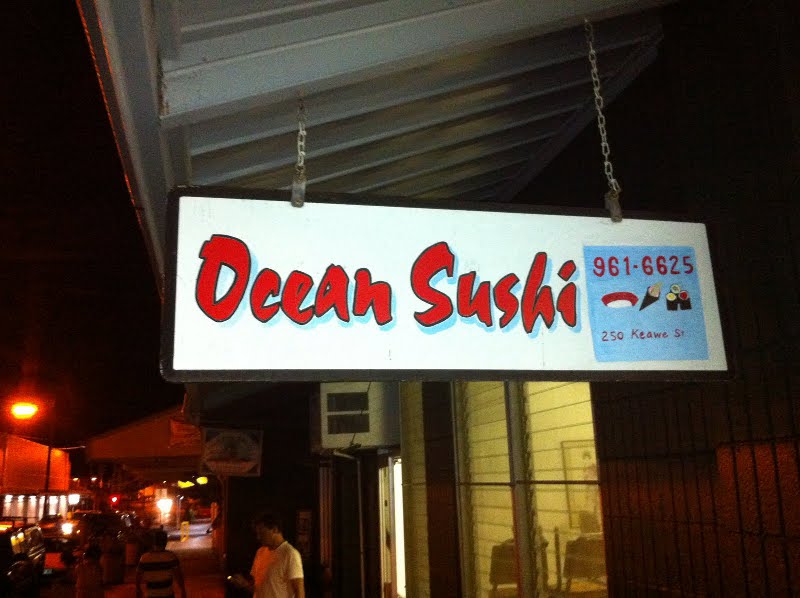 Hilo only has a few sushi options, and if you're looking for good, affordable, unpretentious japanese food in Hilo, Ocean Sushi Deli is the place. True, if you're coming from Honolulu or a city on the mainland you may be unimpressed, but walk by this place on any night of the week and you'll see it's popular with the locals.
The food here is great and the menu is huge and changes all the time, but there are a couple downsides. First, there's no parking, but it's usually pretty easy to find a space to park on the street close by. This is not the place for an intimate meal. The dining room is bright and sometimes noisy. Many tables situated close together definitely give the place an energetic feeling when it's busy. When you walk in there's no one there to seat you. If there's someone at the register they'll usually tell you to sit anywhere, but if you seat yourself you may end up waiting several minutes before getting a menu
All that said, the food here is really good for the price. It's super fresh and there are a lot of options. Popular menu items include the tempura udon, unagi donburri, poke macnut, and the kyoto roll. They also have great deep fried mochi ice cream.
Prices are inexpensive. Two people can easily have dinner for under $30. This is not the place for a fancy sushi bar experience, but if you want good quality for a great price, ocean sushi deli in hilo is your best option.