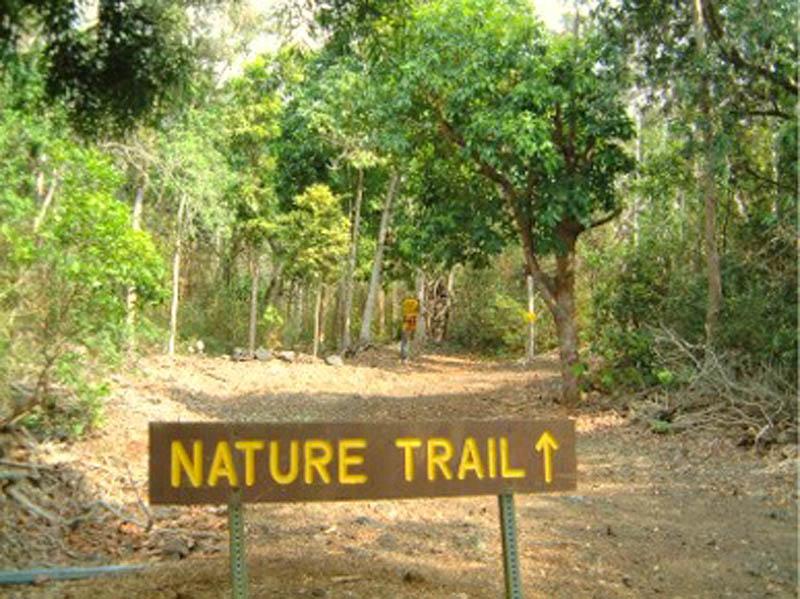 Far away from everything except Ocean View, Manuka State Wayside is an area that's rather secluded. It offers a nice hike through lava forest and a great view of a large forest pit crater.
Manuka (pronounced "manu-KAH") is located just west of mile 81 on highway 11. There is no advance signage so keep an eye out for it. It's easy to drive right past if you're coming from south point. At the entrance you'll find a parking lot, covered picnic table area, and restrooms (no potable water). Even if you don't do the hike this is a good place to pull in for a rest stop on a drive from Kona being that it's out in the middle of nowhere.
The trail takes off from just beyond the parking lot. This is a'a lava forest, so the rocks are sharp and brittle. Sturdy footwear is required for this trail.
The trail curves and passes an ancient stone wall from prehistoric days. Beyond you'll find Kukui nut trees (also known as candlenuts, they were used to make torches), many ohia, eucalyptus, guava, tree ferns, and Ti plants.
2/3 of a mile in you reach the pit crater. Pit craters are formed when lava leaves behind a hollow pocket in the ground which later collapses in on itself, usually during an earthquake. This pit crater is filled with life and looks as if the forest were simply transplanted down 30 feet. Inside are many banana trees, vines, and ohia trees. The pit crater is most definitely the highlight of
Manuka.
As you continue on past 1 mile the terrain becomes smoother. Here there is grass and sword ferns grow in the understory.
The second half of the circle immerses you in varying states of upland forest. The final descent back to the parking lot is steep. The pit crater is definitely the most interesting part of this hike, so you may choose to go straight there and back, rather than continuing around the circle if you're short on time.
All in all, if you plan to do the whole thing allow at least an hour and a half. If you plan to do just the pit crater you can do it in as little as 45 minutes. Don't leave valuables visible in your car here, this area is known for theft.
Why go to Manuka?
An impressive pit crater – the only one of its kind in the area that's accessible, and an enjoyable hike through beautiful ohia forest. Manuka also makes a good rest stop.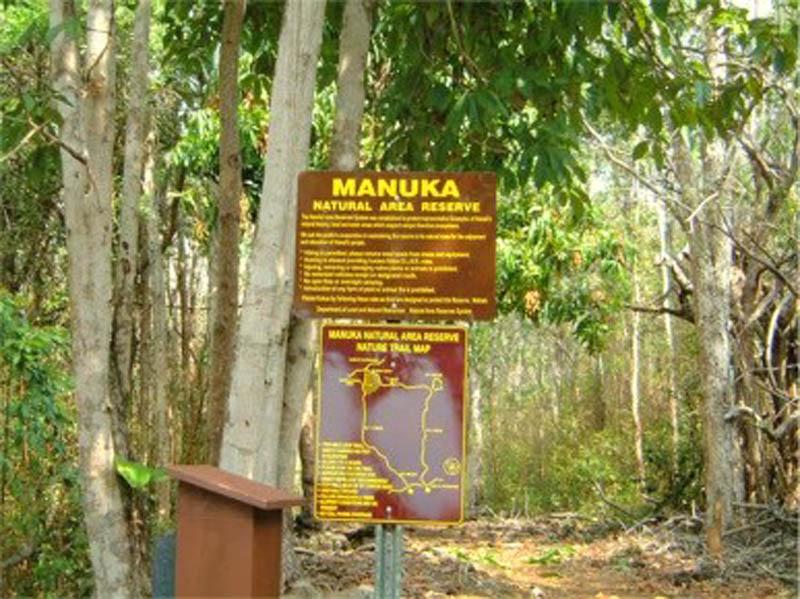 You Might Also Be Interested In: