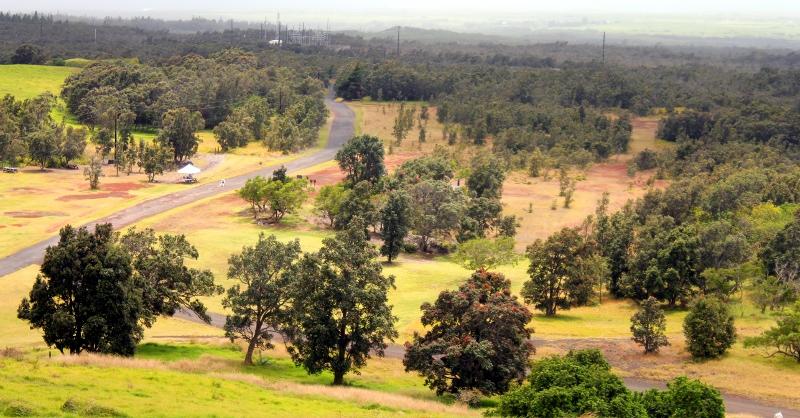 On July 3, 2003 Hawaii Volcanoes National Park purchased Kahuku Ranch from The Damon Estate for $22 million, effectively doubling the size of the national park. The 116,000 acre unit is free to access, but currently entry is only permitted on weekends. The park is not accessible by bicycle or scooter. Cars and motorcycles are permitted 2.5 miles up the 6-mile road, but beyond Upper Palm trailhead high clearance and 4WD is required.
Sitting remotely down south, the park entrance is just east of the community of Of Ocean View, and north of South Point. Kahuku is huge, extending from highway 11 all the way up to the Mauna Loa summit caldera more than 30 miles away. It consists of 6% forest, 7% pasture, 14% subalpine/montane shrubland, and 73% bare lava. Indeed, most of Kahuku is jagged a'a flow, but the area is famous for its Koa forests and wide variation in climate. In the 1880s, the first US Geological Survey of Hawaii described Kauhuku as having unbroken forest from 2000′ to 6000′, however between 1868 and 1950 ten lava flows occurred in Kahuku, burying much of the forrested area. Earthquakes and eruptions are frequent here as well. The largest one on record began on March 27, 1868. Mauna Loa began to erupt, preceding a barrage of earthquakes (thousands per day) that shook the entire island, the largest estimated magnitude 7.9. Countless fissures opened up in the Kahuku area as the southern portion of the volcano slipped towards the ocean. At least 75 people lost their lives in mudslides and the ensuing tsunami that struck the island's southern flanks. On April 7, 1868 a fast moving lava flow that originated in Kahuku traveled 10 miles to the ocean in just 3 hours. Lava gushed from 2.5 mile-long fissures for five days, producing an estimated volume of 123 million cubic meters of newly formed rock (for comparison, Kilauea eruptions average less than .5 million cubic meters per day).
Kahuku has four main hiking trails, with other ranger-led hikes to some of the unit's more unusual features taking place every so often (check the park website for schedules).
1. Pu'u o Lokuana Cinder Cone – (0.4 mile loop) A short steep climb up a cinder cone that was used as a quarry in WWII. This easy hike over grassy fields provides a stunning view of lower Ka'u.
2. Pu'u O Lokuana Trail – (2 mile loop) Follow the historic ranch road out to a hidden pasture kipuka. The trail goes past lava trees and touches the edges of the 1868 lava flows. Follow the old airstrip back to the cinder cone.
3. Palm Trail – (2.6 mile loop) Hike through lush pastures and up a cinder cone for one of the best panoramic views of the area
4. Kahuku Forest Trail – (2.4 mile loop) This trail passes by the edge of a huge collapse crater, revealing a pristine hawaiian rain forest protected by the sheer walls of the massive pit.
Admission to Kahuku is free of charge. There are restrooms at the parking lot near the entrance, but there are no amenities anywhere else within the unit.
Kahuku is a unique Hawaiian land that showcases the powerful starkness of massive, sharp, edged lava flows, as well as the serene beauty of the upland forests for which Ka'u is so well known.