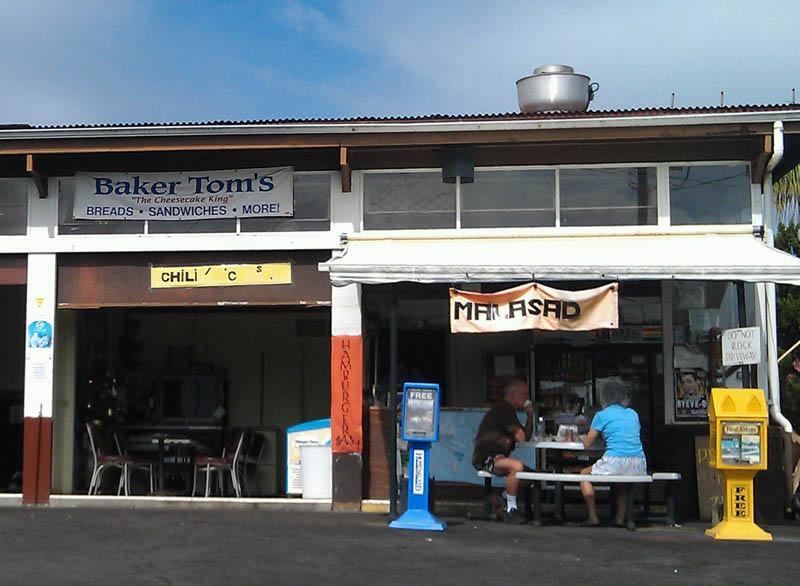 About two miles up the road from Honoli'i, Hilo's most popular surf beach, is the small community of Papaikou. Here you'll find a Hamakuan bakery that many claim has the best Malasadas on island.
For those who haven't had one, a malasada is basically a portuguese donut. It's a fried ball of sweetened dough rolled in sugar, usually with a filling of some sort. When the Portuguese workers began arriving in Hawaii in 1878 they brought their recipes along with them and today these pastries are extremely popular and widely enjoyed across all the islands.
Baker Tom's sign read's "The Cheesecake King", but everyone goes for the malasadas. Unlike other places these ones are huge. A pair can be eaten as a meal. There are both sweet and savory flavors including: Lillikoi (passionfruit), Cherry, Apple, Pb and J, Poha berry, Raspberry, Strawberry cheesecake, Canadian Bacon, Jalapeno cheese, Pizza, and the original sans-filling. Popular flavors stick around and new ones show up every so often.
Baker Tom's doesn't look like much from the road. It's attached to an auto repair shop and the seating is a couple of covered tables in the parking lot. In Hawaii if you judge places based on their appearance you're going to miss out on most of the good stuff.
Baker Tom's is perfect after surfing at Honoli'i or a sunrise drive along Hamakua. Tom makes everything in the morning and by afternoon he may be out of some flavors. If you want your pick it's best to get there before 10 am.
Many around Hilo claim that Baker Tom's malasadas are the best, but with so many places around that make them in so many different ways this is a hotly debated topic among locals.
Why go to Baker Tom's?
Some damn good malasadas.
You Might Also Be Interested In: