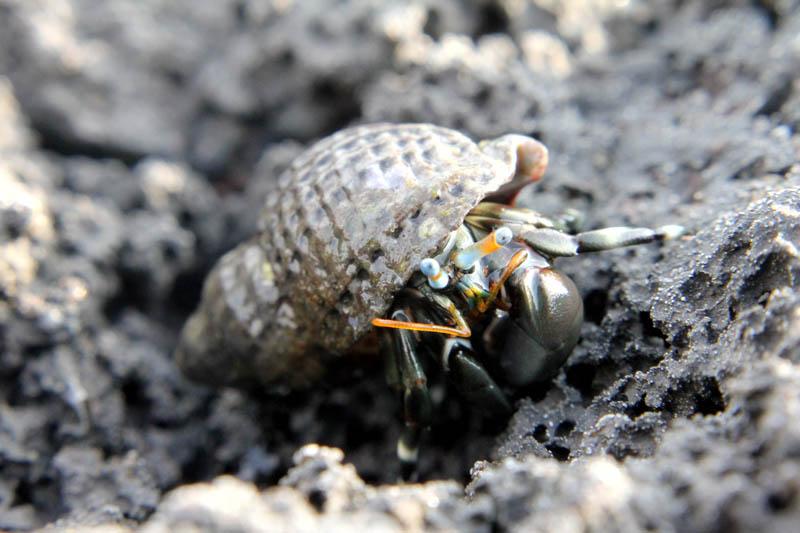 The Big Island is the youngest of all the Hawaiian islands. Older islands like Oahu and Maui have had time to erode, filling their surrounding waters with sand and silt which can limit visibility. Big Island's Kona coastline is mostly rocky shore, and desert land conditions produce very little runoff. This make's Kona's waters some of the clearest in the world, and nowhere is this more apparent than Pawai (pronounced "Pavai") Bay, just north of downtown Kona.
Pawai is tucked out of the way down at the northern end of the Old Kona Airport. This secluded bay is a protected marine preserve and frequented by locals. It provides some killer snorkeling just off shore and great tidepooling along the coast.
Upon entering the area you'll find a sandy beach. Beyond is rocky coastline with an abundance of tide pool life. Everything inland is bare lava rock save for a few trees buffering the coast. If you're planning to snorkel or free dive you can leave your things on the beach. The shallow entry has a high abundance of banded urchins, ("Vana" in Hawaiian) which aren't poisonous but they are quite painful and can ruin a dive before it begins. Because of this, depending on the waves it's usually better to enter off the rocks on the right or left side. Find a rock you can hop off of into deeper water. On your way back in you'll be able to see where the urchins are on the bottom and find a clear route up to the beach. Pawai is not recommended for the first time snorkeler.
Once you're in the water the payoff is immense. Visibility is often in the hundreds of feet, and the reef is healthy and prolific. Pawai provides a stunning variety of marine life so close to Kona's city center. The reef stays shallow enough to snorkel about 40 feet from shore, then curves sharply downward and descends to 60 feet, still clearly visible from the surface. Along the slope you'll find a variety of caves, arches, and swimthroughs with lobsters, eels, and other animals hiding in the dark depths.
It's common to see large schools of fish here such as butterfly fish, goatfish, triggerfish, and mullet. Sea turtles are common and and even Spinner dolphins sometimes venture into the bay.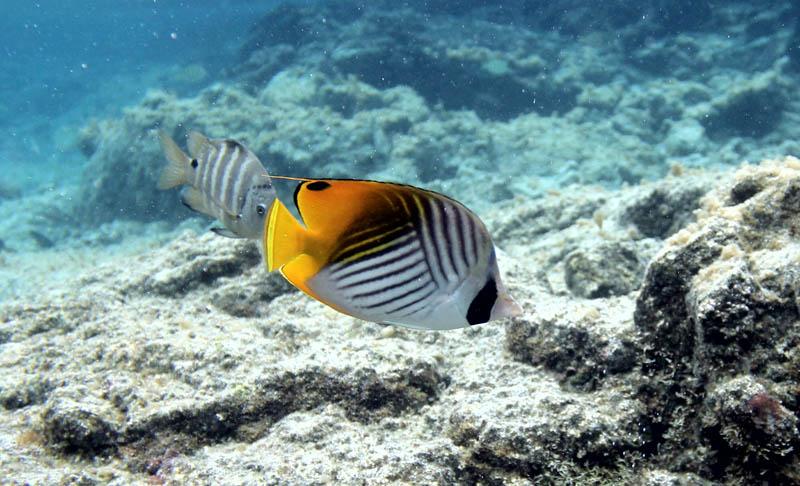 There's a mooring buoy beneath the surface off shore (A bright white ball about 10 feet down. It's easy to spot. This makes Pawai a kayak destination as well. It's easy to paddle up along the coast and moore your boat to the buoy for an afternoon dive.
Pawai is also host to some phenomenal tidepooling. If you follow the rocky shoreline past the beach you can explore pools for about a quarter of a mile down the coast. Here you'll find urchins, opihi (limpets, a'ama (the hawaiian rock crab), sea cucumbers, and hermit crabs. As with any rocky coastline crashing waves can be dangerous, so be careful when near the edge.
Why go to Pawai?
Pristine reef and spectacular tidepooling just minutes away from downtown Kona.