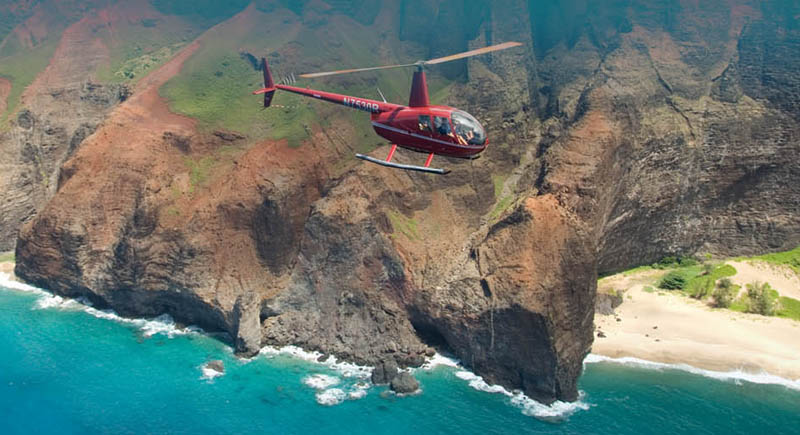 Big Island tours help visitors take in views and join activities that would otherwise be unavailable to them. Whether it's horseback riding on the remote north coastline or exploring deep coral reefs with a submarine, there is a heady mix of tour options to enjoy.
Roberts Hawaii and Jack's Tours both operate sightseeing bus tours on the island. The following is a list of companies that offer more specialized activities:
Big Island helicopter tours
Going up in a helicopter is a rite of passage on the Big Island, and there's no better way to get a genuine grasp on the tenuously changing landscape at work here. Choppers depart from the Kona side, but the best tours are based out of Hilo and spend plenty of time around the volcano.
Big Island boat tours
Boat tours from Kailua Pier are an excellent way to get out and enjoy the Kona coast. These serve a variety of purposes, including sightseeing and snorkeling, but for most it's simply the chance to see the island in its natural context. Many tours go to Kealakekua Bay for snorkeling and include a continental breakfast.
Big Island scuba tours
Scuba tours set out from Kohala, Kailua-Kona and Keauhou, and they can be tailored for beginners and veterans alike. Most outfits offer certification courses and also offer snorkeling and, in some cases, snuba. The latter is a good option for tourists who aren't PADI certified and don't feel inclined to invest the time and money needed to remedy that.
Big Island horseback riding tours
The Big Island has its own tradition of cowboys (called paniolos), and there are several companies offering horseback riding tours. Some of the best venture into Waipio Valley in a remote corner of the Hamakua Coast.
Big Island submarine tours
This is a unique niche in the Hawaii tours market. There is only one operation on the island, and it launches from the Kailua Pier. The submarine explores a 25-acre reef at depths of about 100 feet. The standard tour lasts 45 minutes.
Big Island whale watching tours
Majestic humpback whales arrive in the waters of the Big Island from around November to March, with the most sightings happening in December and January. They arrive fattened on plankton from Alaskan waters and spend the winter here courting and giving birth. Other species of whale spend the entire year here, and tours set out year-round.
Big Island fishing tours
The Big Island is a haven for deep-sea fishing, and every August the international billfish tournament takes center stage. Throughout the rest of the year, visitors can charter a boat and try their own hand at the sport. Be advised that most boats keep whatever their customers catch.