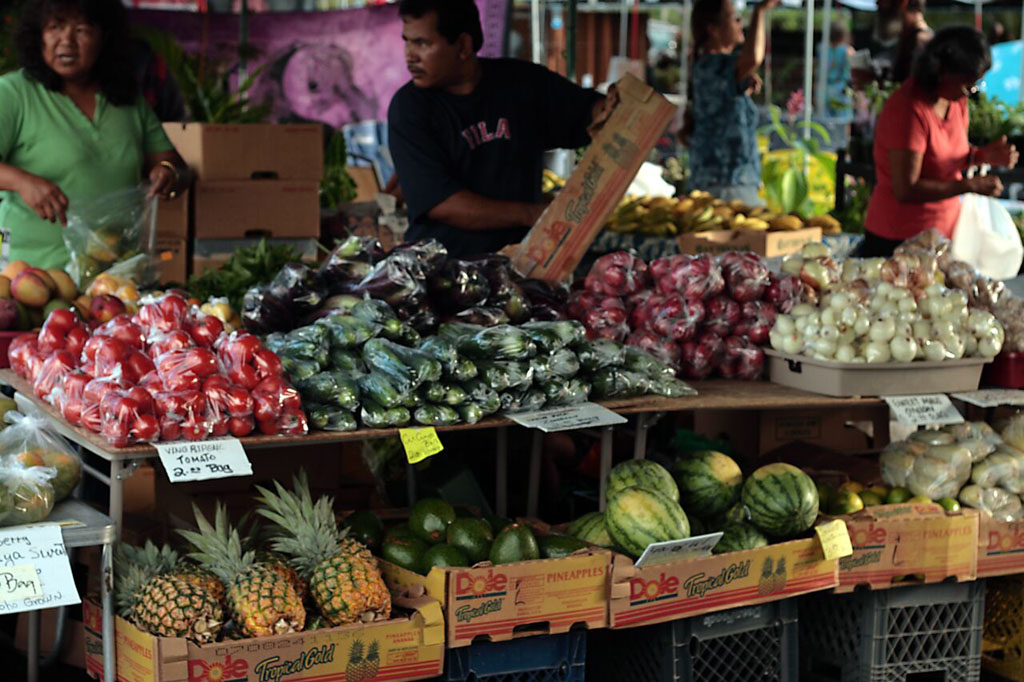 One of the more enjoyable things to do while on the Big Island is a visit to one of the island's many farmers markets. It provides those staying in large resorts a bounty of fresh fruit and treats and for the condominium dwellers, it offers an option to overpriced resort grocery stores. For the souvenir seeker, some offer a wide variety treats for folks back home.
Here are a handful of the best that deserve at least a short visit:
The most popular and easiest to find is the Hilo Farmers Market located just steps from the ocean at the edge of the historical downtown district. The collection of shiny silver tarps protect from Hilo's frequent downpours but once inside the market is filled with fresh fruits, vegetables, art, pastries, tropical jelly, fresh fish and much more.
Hilo Farmers Market
400 Kamehameha Avenue
Hilo, HI 96721-0034
(808) 933-1000
Hours: Wednesday and Saturday 6:00 am – 4:00 pm
Located in the Waikoloa Beach Resort wedged in between Euro designer shops and upscale eateries, the Kings Shops Farmers Market is the perfect spot to load up on papayas, pineapple, island grown oranges along with fresh vegetables and even Kona Coffee beans and other island treats.
Kings Shops Farmers Market
69-250 Waikoloa Beach Drive
Waikoloa HI 96738
(808) 886-8811
Hours: Wednesdays from 8:30am to 2pm
The Wimea Town Market, located on the grounds of Parker School on the foothills of the Kohala Mountains, offers wonderful freshly baked European style breads, fresh vegetables, a large selection of tropical jelly and other regional specialties.
Waimea Town Market
Parker School
65-1224 Lindsey Road
Kamuela, HI 96743
Hours: Saturdays 8am-1pm
The farmers market at Hawaiian Homesteaders Association offers a wonderful collection of artisan breads, desserts, fresh fruits, flowers and cheeses. Several booths offer breakfast plates to enjoy al-fresco in to the cool mountain air. Don't miss a chance to wrangle up some porterhouse steaks from Kahua Ranch or fresh lilikoi chiffon pie.
Hawaiian Homesteaders Association
Kuhio Hale Building
Mamalahoa Highway
Kamuela HI 96743
(808) 885-5627
Hours: Saturday 730am – 12noon
Image by syntheticaperture.